You want your living room to really stand out as a haven of style and taste, right? Then you need to think about adding in a few piquant accessories and decorative touches that will keep your guests talking for days! Some of the most effective additions are simple, almost understated pieces that will prove to be timeless, such as matching lamps, but others are a little more… out there! Come with us now as we show you a host of ideas, direct from some of the best interior designers around. We think you'll be inspired to give your living room that little extra touch of glamor before you've even gotten to the end of the article!
1. A pair of large, statuesque lamps will always make your living room look more put together and grand. Plus, the ambience is easier to control!
2. A bit of natural light goes a long way in any space, so always look to install blinds and/or curtains that can easily be opened up to draw in some sunshine.
3. Eclectic collections can make for really fun living rooms. Think of this technique as a way to display your life experiences, up on your walls!
4. We are all accustomed to tucking our stairs into hallways, but they look phenomenal in a living room! There's just something almost bohemian about the effect!
5. A few paintings will always liven up and otherwise plain living room, but don't feel like you have to be reserved. If you want to create an entire gallery wall, you do it!
6. Plenty of wood will bring a natural warmth and richness into a living room and depending on where you use it, can really craft a theme for the space. Don't you love this tropical haven?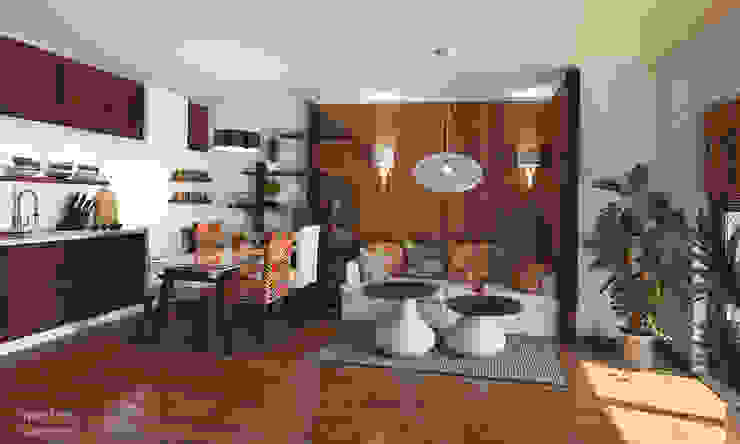 Country style Interior for an appartment kitchen and living room
Inspiria Interiors
7. A statement feature can be anything that catches your eye and pleases you, visually. With that in mind, why not go on the hunt for something large and quirky and make it the central feature?
8. Texture and color are vital for a truly spectacular living room. Getting the balance between fashion, function and comfort right is always tricky, but sumptuous fabrics make it a lot easier!
9. Soft neutral tones might not sound groundbreaking, but in a living room, they create a natural warmth and coziness that is always appealing. Don't forget a fluffy rug though!
10. Individual seating for everyone creates a more unique and compartmentalized living room, which is so hot right now! It's all about using those corners more effectively, so grab a few armchairs and enjoy!
11. A stunning floor is a must in every living room! It need to be comfortable underfoot, hardwearing and gorgeous to boot! We are suckers for real wood flooring!
12. Layered design is enjoying a surge in popularity right now, as it uses neutral bases and a gradual approach to decorating to create a complex and cohesive design. In essence, it's a natural evolution of a room, demonstrated in accessories!
13. Bold contrasts never fail to add in a touch of contemporary cool to a living room. There's just something so perpetually modern about monochrome furniture, don't you think?
14. Plants and flowers will make even a really plain room come to life! Get a good mix of potted and cut varieties, so you can keep the look changing every week!
15. A feature wall is a great way to give your living room some serious oomph! If you don't have a natural contender, you could consider building a stud wall to work with!
For more great living room inspiration, take a look at this Ideabook: Cool corner sofas for every living room!