Those who love the colour blue are in for a treat today. Here at homify we've gathered up some gorgeous blue palettes to share with you. Whether you're set on using blue but just aren't sure what to pair it with, or whether you aren't sure of any colours, we have some options for you to consider.

Blue is a particularly good colour for the bedroom, as you can often achieve a very calming look with it. Or, it can even feel romantic. With certain contrasting colours, blue can achieve a very sophisticated look that goes great in living rooms, especially in a classic room, or even older styles, like Victorian. Those vibrant, punchy blues are best kept for modern or contemporary looks, where they bring out a really wild feel. If you get in over your head, don't be afraid to consult an interior decorator for palette advice. 
1. This matte midnight blue is a perfect match for the neutral, shimmering kitchen back splash. This dark shade adds personality to the kitchen without making it feel juvenile. It's a sophisticated space.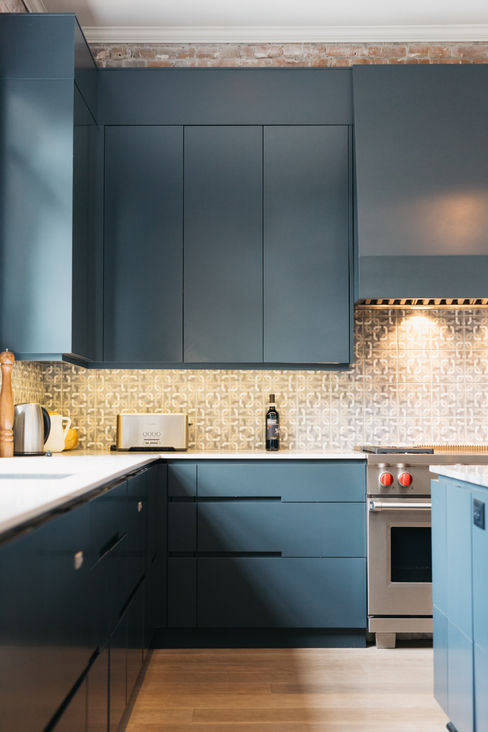 Simple and industrial kitchen vibe
FLUID LIVING STUDIO
2. Sapphire blue is a great fit for a dark brown, when lightened up with plenty of white. The combo creates the serious feel needed for a classic style bedroom, complete with ed posts, black and white pictures, and elegant wainscoting.
3. For a more modern look you could combine your blue with white and tan. This demin blue wall is the perfect opportunity to hang family paintings.
4. Various shades of blue can be combined with each other, of course. Here's electric blue (bedspread), royal blue (headboard) and navy blue (wall). To create the biggest contrast always pick shades with distinct hues, not distinct saturation.
5. This conflower blue is doing a lot of work for this bathroom, bridging the gap between the ornate mirror and the simple basin unit.
6. Azure blue is a great shade to pick for a room that needs to be brightened up. White does the same trick, so their combination is truly a summery, joyful look.
7. Oxford blue is another serious, older shade, but it can be used in modern spaces too. The green pillow adds a bit of playfulness, but the overall feel is deep calm.
8. Powder blue, tan, and cream is the perfect combination for a classic dining room. The atmosphere is elegant, but not heavy. Nothing is overpowering. For the same reason, powder blue is often used in baby rooms.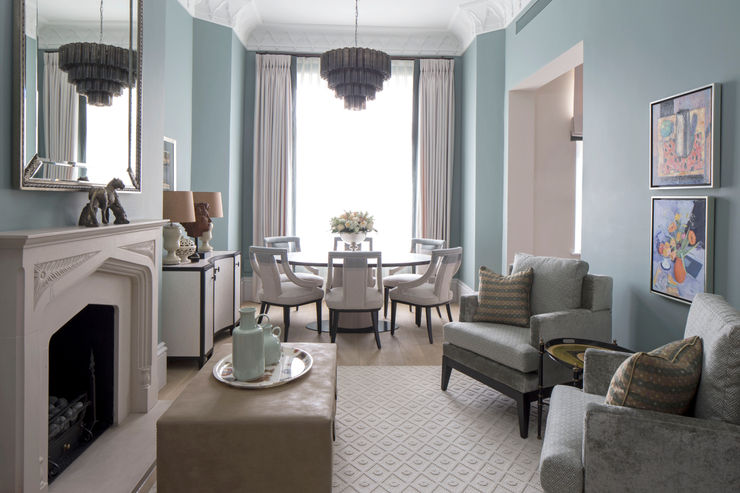 Living Room and Dining Area
Roselind Wilson Design
9. There's a deep grey in this living room, which has been balanced by a middling blue, persian blue, and a light cream. The result is a room that is high contrast and interesting.
10. If you're not shy, and you like a little luxury in your life, a ribbon blue, complete with eggshell sheen, can make for one stunning bedroom. As before, the combo is dark grey and light cream for maximum intensity.
11. If you're just looking to add subtle accent to a room, a washed-out turquoise is a great choice. It feels as light as the cream, with the middling grey to contrast them.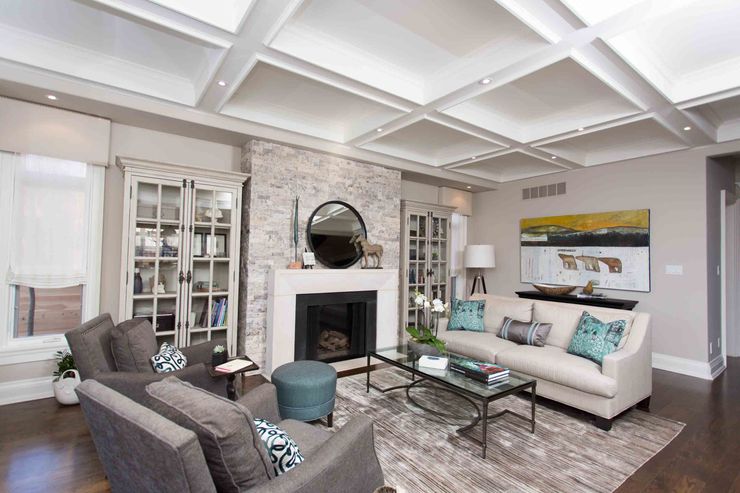 Texture and style
Frahm Interiors
Need more colour ideas? How about these 35 shades to splash on your kitchen?