Winter, for many people, is synonymous with staying indoors and doing as little (while eating as much) as possible. Fortunately, the seasons have moved on, and summer is right around the corner!
And that brings us to our reason for conjuring up this piece today: a good old-fashioned braai with friends and family! However, we know that the South African weather can be quite unpredictable, which is why we've searched high and low for the best COVERED braais to ensure no wind, rain or surprising hail interrupts your socialising plans this summer.
Whether they're in the kitchen, on a roofed patio or even situated in the garden underneath a well-covered pergola, these 15 designs are sure to inspire many!
1. Don't forget some comfy furniture to relax/socialise in style!
2. This looks pretty secured, not to mention super stylish.
3. How about this rustic wooden ceiling to protect your party from a summer drizzle?
4. How striking is this entire space? We especially love the tiled backsplash.
5. This is like a second (outdoor) kitchen all on its own.
6. A glass roof to ensure a blue-sky view? Perfect!
7. What do you think of this country-style braai with its timber overhang?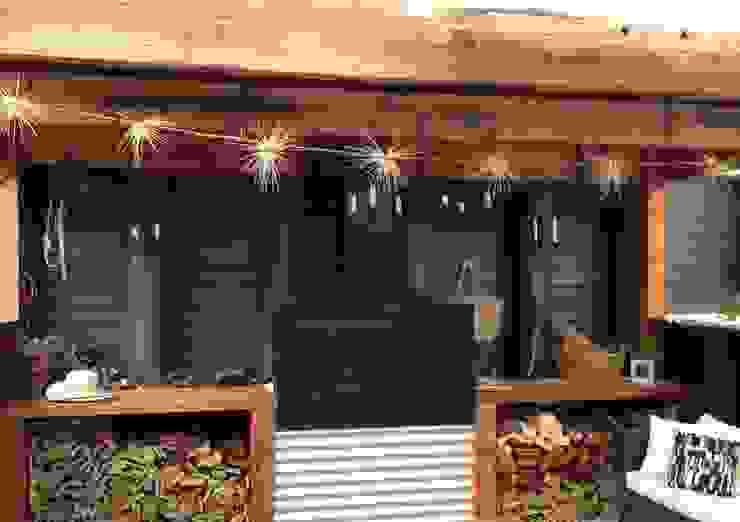 Exposed Braai
The Braai Man
8. This outdoor (yet covered) kitchen even includes a dining area and little garden.
9. Thanks to those generous glass sliding doors, this covered space is privy to a fresh ambience whenever required.
10. Look how much softer a simple wooden ceiling becomes when painted white.
11. We're always up for a nicely textured brick wall – and a pizza oven, of course.
12. See how the wooden surfaces complement the natural touches of the garden.
13. We are sure this indoor built-in braai gets lots of attention.
14. This Mediterranean-style patio ensures a permanent feeling of being on holiday!