Swimming pools, gardens, patios… when it comes to enjoying the fresh outdoors, there are so many features and elements that can enhance an al fresco gathering, and today we wish to shift the focus on another one: pergolas.
Just imagine you gather with a few friends and family members underneath a stylish pergola, comfortably shaded, to enjoy some fresh air, scrumptious snacks and a festive ambience – what could be a better way to welcome back summer?
So, on that note, let's have a look at 13 examples of pergolas that are sure to inspire you (perhaps even going so far as in adding one to your own yard/garden)…
1. This wooden design definitely complements the modern style superbly.
2. A lush green roof atop your pergola? How unique!

RHS Cardiff 2015
Best4hedging
3. How about a rustic ambience with some exposed brick and raw timber?
4. For a classy outdoor event, we'd go with this sophisticated design.

Pergola
Earth Designs
5. A glass roof ensures no unexpected drizzle ruins your social plans.
6. Some fabrics tied to the posts immediately ensure a romantic touch.
7. Can you imagine this exceptional design grabbing attention in your back yard?
8. How smooth and elegant is this structure with its curvy roof design?
9. This timber structure with its delightful décor and setting perfectly captures the Mediterranean vibe.
10. How striking is this ceiling design? It's the little things that count…
11. Even this quaint little corner has been styled up tremendously with all the right touches.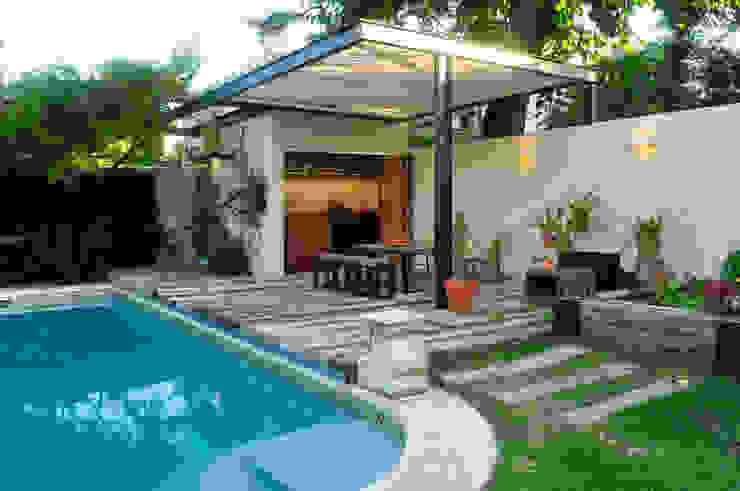 Casa SIRI · Paula Herrero | Arquitectura
Paula Herrero | Arquitectura
12. The perfect focal feature for any garden!
13. A pergola that functions as an outdoor bathroom in the middle of the garden? Now that's an exceptional idea.
And speaking of outdoor beauty, just take a look at these 15 small patios you will fall in love with.